Bed and Breakfast (BBI) | Ottawa
This popular hideaway is a favourite with the Ottawa's diplomatic communities. BBI Ottawa is known for its unrivalled luxury, quiet, unmatched security yet it is within walking distance to the...
West Coast Wilderness lodge | Egmont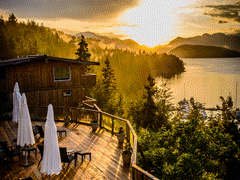 Imagine your own private ocean front lodge, where your and your guests can take in one of the best view in Canada. We can offer accommodations to 60 of your family and friends,as well as sit over...