Chapel Wedding Services - Rev. Steven Roach | Laval-Montreal
One of Quebec's most sought after Wedding Officiants! Offering Professional Marriage Ceremonies and Renewal of Vows. Chapel available or you choose your location. Ordained Minister authorized by ...
West Coast Wilderness lodge | Egmont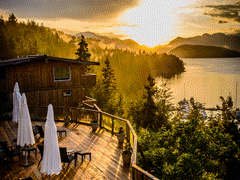 Imagine your own private ocean front lodge, where your and your guests can take in one of the best view in Canada. We can offer accommodations to 60 of your family and friends,as well as sit over...