Pacific Yacht Charters | Vancouver
The most extraordinary and utterly romantic venue. Whether moored dockside or cruising Vancouver's pristine waterways, your custom nuptials aboard the Pacific Yacht will be an experience you will ...
International Centre | Mississauga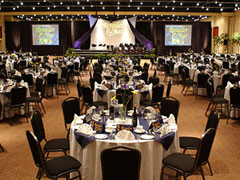 Let us host your wedding in our elegant new Conference Centre. Our innovative, worldly cuisine and elegant ballroom space will create one of the most exciting moments in your life. Our highly e...